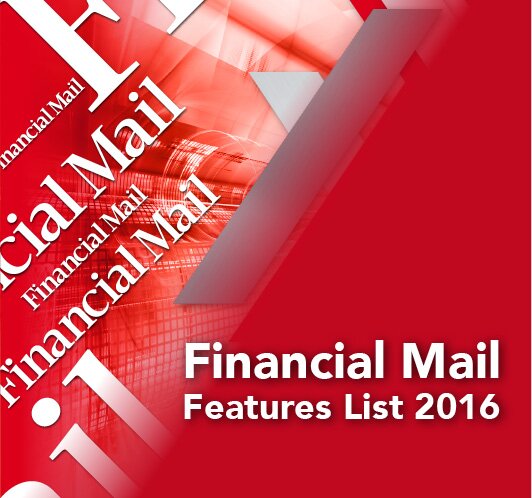 Financial Mail Features List (1404 KB)

Ranking the Analysts, SA's leading assessment of institutional stock brokers, will this year be produced in partnership with research house Intellidex. It will retain the same high standards, structure and system it has become known for over the years. The new partnership allows for tweaks that will ensure the publication continues to meet the needs of the sell and buy sides as well as business needs of all parties.

The second instalment of the revamped The Little Black Book will again go beyond just profiling the personalities who have come to be associated with black business. Those featured in the book will be selected based on criteria that embody values and ethics, inspiration, approach, delivery and results. This year each sector will feature two "rising stars". The publication will also recognise the potential of young women.
Infrastructure spending by government, state enterprises and the private sector has been slow for a number of years. What are the underlying reasons for the slow rollout of projects? And why do mega-projects, in SA and abroad, often exceed their budget and miss deadlines? These questions, and others, will be the focus this year, in addition to the growing trend of companies that are looking further afield for work.

This year's detailed and accessible analysis of JSE-listed companies will be interesting as it will cover a period of disappointing economic growth in SA. But there is a compelling growth story in the rest of Africa, and many of the top performers are to some extent dependent on operations outside SA. To identify value opportunities in the market, the publication will look back while also looking at future prospects.

SA's property market provided plenty of action for investors in 2013. However, listed property returns, were dented by ongoing volatility in global bond markets and the weaker rand. So to what extent, if any, are property share prices likely to recover in 2014? The handbook will provide comprehensive answers to these and other key questions to help would-be and established real estate investors make better sense of the challenges and opportunities in the various sectors of the real estate market.
Vehicles have been built in Australia for more than 70 years. This is its biggest manufacturing sector. But every motor company has announced plans to disinvest. By the end of 2017, Australia's motor industry will be dead. Though there are differences between the SA and Australian motor industries, there are lessons for SA to learn from Australia's predicament. The publication will explore these issues.
With each passing day, South Africans and SA companies are reducing their near-total dependence on coal-based electricity, helping to cut SA's excessively high greenhouse gas emissions and combating climate change. The increasingly high cost of coal-based electricity is also encouraging more energy efficiency. So what are the fundamental changes taking place in the SA energy mix?
Investors Monthly is unique in the South African marketplace in that it combines the analytical skills of research house Intellidex with seasoned highly experienced financial journalists from the Financial Mail and Business Day. With journalistic insight into business personalities and both the upside and pitfalls of hot and not investment topics, sectors and companies, the magazine is also packed with strongly analytical pieces and graphics by the numbers, pertaining to companies, funds and local and international markets, share trades and picks.
For more information and advertising opportunities please contact:
Kay Naidoo
(